Providing students with SAFE access to the INTERNET!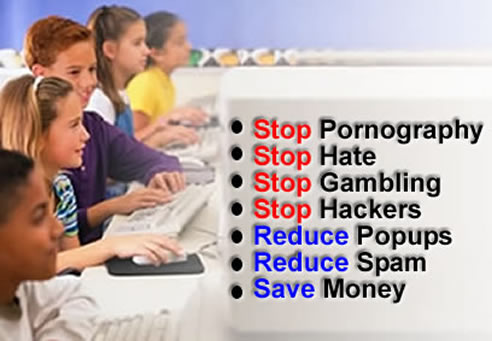 Safe Surfing
Unlike traditional web filters that come with a large list of bad sites (which need to be updated frequently), the NetSentron is equipped with 'true' content filtering. This type of content filtering checks every page on the Internet that your students may access for 'bad' content and disallows it if deemed unsuitable. With the Internet changing every single day, web address filtering can be extremely difficult as sites change and new ones come up all the time. Do you have 'true' content filtering? Let's try a little test. Go to www.google.com. In the search box type the word "dolls". The first search result yields www.realdoll.com. Click on the link. You will be surprised to see what a young girl searching the Internet for a doll might see. With NetSentron's 'true' content filtering, this site and others sites just like it, would have been banned.
Did you know that "Nine out of ten children between the ages of 8 and 16 have accessed pornography on the Internet"? In most cases, these sites were stumbled upon while searching for information that was homework related.
How Does It work?
Click here for a quick summary on how the Content Filtering/Porn Blocker in the NetSentron works
Features
Click here for a list of features available in the NetSentron's Content Filter
"Using the Internet with a filter is using the Internet responsibly."
– The London School of Economics
Hacker Protection
NetSentron was nominated in 2003 by CMP Network Magazine for the Best Intrusion Detection System, and it has just kept getting better since.
Every day more and more students are doing their research online. Unfortunately, they are also leaving the school's network open to an intruder, and with the ever changing Internet it is more important now than ever to have security protocols in place. The NetSentron security server is designed to protect your school's network from external attacks while still allowing the students access to the resources of the Internet. With an easy to use Intrusion Detection reporting system you can see where and when someone has tried to hack into your school's network. The NetSentron also allows the ability to detect, prevent and monitor internal intrusions, stopping students with the urge to change some less than perfect test scores.
Reduce SPAM
The NetSentron helps to reduce the large amount of SPAM you are receiving on a daily basis. And as most of us are aware, that amount keeps getting larger each day. Based on blacklists, SPAM content and pattern email headers are tagged for selected action based on the recipient. Just imagine how more productive your staff could be by not having to sort through hundreds of junk-emails. Both time saving and cost effective.
Reduce Popups
Are you tired of those irritating advertisements that pop up on the screen when you are surfing the net? With the NetSentron you can take back the control of your web browsing by reducing the amount of popups that appear. Now you can spend less time shutting down those annoying ads and more time searching the Internet for what you really need.
"Schools employing NetSentron have reported a 30-35% reduction in bandwidth usage"
Remote Access
No more late nights in the classroom! With the NetSentron you can provide your teachers and staff with the ability to securely access their work from the comfort of their own homes. The NetSentron allows for virtually unlimited VPN connections for permitting secure access from remote locations or for linking one or more campuses together. How is that for a nice bonus feature?
All In One
Are you tired of searching for a Firewall only to find out that it does not have an Intrusion Detection System? Or how about installing a Content Filter system only to find out a week later that it is obsolete? All that money and time wasted. Now just imagine having a Firewall with Intrusion Detection, 'True' Content Filtering and SPAM Filtering all one. With the NetSentron you get all that and more in one nice affordable package.
For more information call 1-800-661-1755 or click here.
Go to Resellers main info page