Protect Your Firm From Internet Security Threats!
For more information call 1-800-661-1755 or click here.
Keep Your Client Information SECURE!
Every day more and more companies are doing their business online. Unfortunately, they are also leaving their company's network open to intruders, and with the ever changing Internet it is more important now than ever to have security protocols in place. The NetSentron security server is designed to protect your company's network from external attacks while still allowing your staff access to the resources of the Internet. With an easy to use Intrusion Detection and reporting system you can see where and when someone has tried to hack into your company's network. The NetSentron also allows the ability to detect, prevent and monitor internal intrusions.
SECURE Remote Access
Are you putting your client confidentiality at risk using wi fi or a public LAN connection? With the NetSentron you can provide your staff with the ability to securely access their work from their own homes, at the cottage, at a client site or the court house. The NetSentron allows for virtually unlimited VPN connections for permitting secure access from remote locations or for linking one or more locations together. The VPN access uses 256 bit encryption with a security certificate that is required to positively identify each user. This is over a million times more secure than online banking!
Surf the Internet SAFELY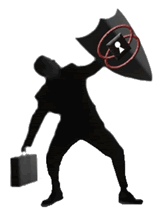 Unlike traditional web filters that come with a large list of bad sites (which need to be updated frequently), the NetSentron is equipped with true content filtering. This type of content filtering checks every page that your staff may access for 'bad' content and bans the page if it is deemed unsuitable. With the Internet changing every single day, web address filtering can be extremely difficult as sites change and new ones come up all the time. Also, most companies don't have the resources to monitor, let alone the ability to stop employees from accessing certain sites during work hours. By employing the NetSentron you can keep your business and employees safe from offensive and even illegal material on the Internet.
Reduce Spam
The NetSentron helps to reduce the large amount of SPAM you are receiving on a daily basis. And as most of us are aware, that amount keeps getting larger each day. Based on blacklists, SPAM content and pattern email headers are tagged for selected action based on the recipient. Just imagine how more productive your staff could be by not having to sort through hundreds of junk-emails. Both time saving and cost effective.
"The amount of Spam in the networks today is about 16 times what it was two years ago…an estimated 30 percent to 50 percent of the messages coming toward enterprises is Spam or malicious content. Serious defenses are needed in a way they have never been needed before." ~Gartner
Reduce Popups
Are you tired of those irritating advertisements that pop up on the screen when you are surfing the net? With the NetSentron you can take back the control of your web browsing by reducing the amount of popups that appear. Now you can spend less time shutting down those annoying ads and more time searching the Internet for what you really need.
"It is estimated that US companies lose $63 billion a year in productivity because of the Net." ~Websense
All In One
Are you tired of searching for a Firewall only to find out that it does not have an Intrusion Detection System? Or how about installing a Content Filter system only to find out a week later that it is obsolete? All that money and time wasted. Now just imagine having a Firewall with Intrusion Detection, 'True' Content Filtering and SPAM Filtering all one. With the NetSentron you get all that and more in one nice affordable package.
For more information call 1-800-661-1755 or click here.
Go to Resellers main info page